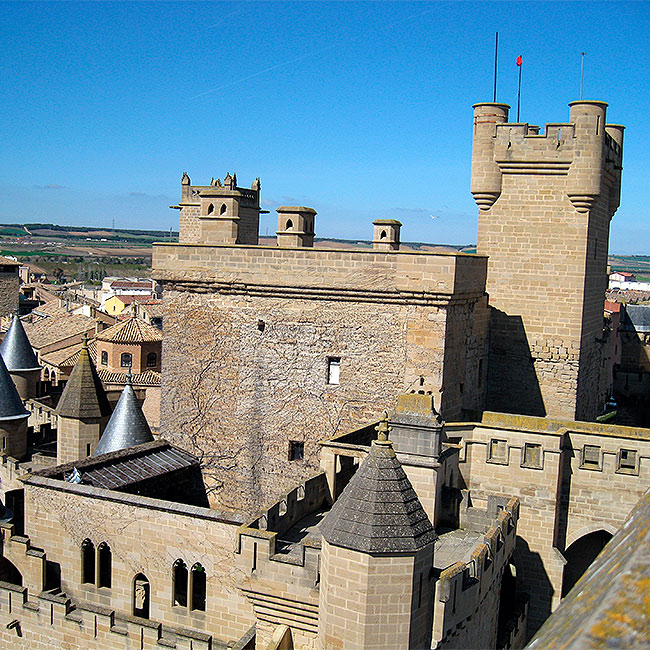 Conjunto medieval de Olite
a 9Km.
Walking through Olite is getting into a fascinating medieval urban plot in which stands the palatial Gothic castle with its thick walls and crenellated towers. Stone houses with their blazons and the good wine wait for the visitors as well.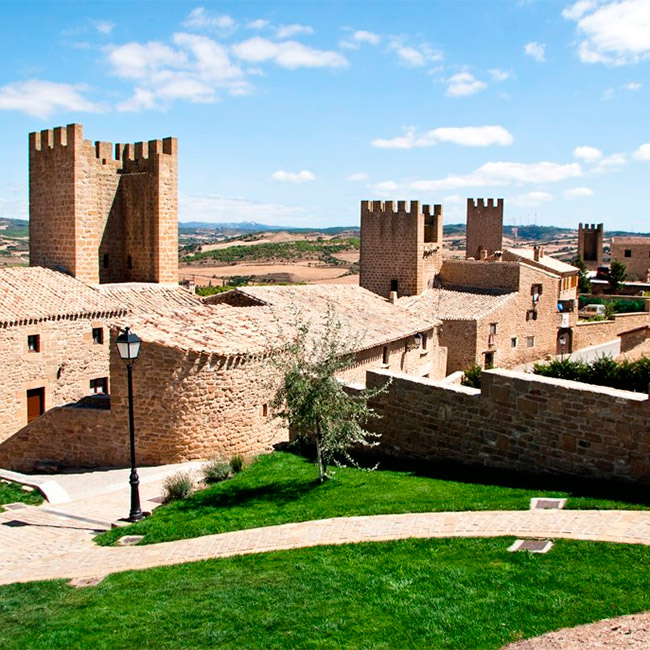 Cerco de Artajona
a 18Km.
Es el conjunto amurallado medieval más importante de la Zona Media de Navarra, construido en el siglo XI de los que conserva 9 de sus 14 torreones almenados con su camino de ronda.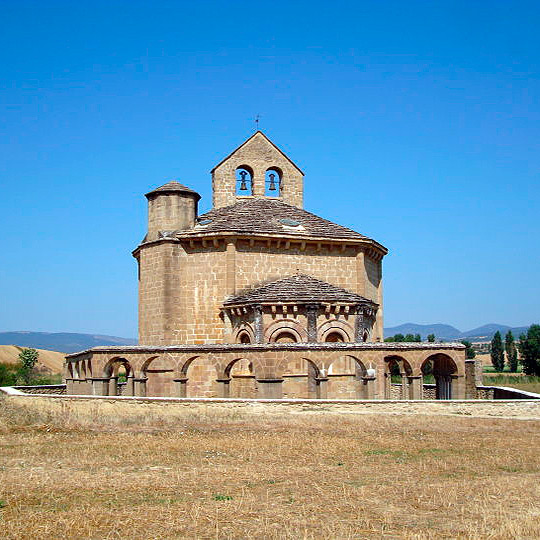 Santa María de Eunate
a 23Km.
Enclave of first order in the "Camino de Santiago" (Santiago´s Trip) Navarro, close to Puente la Reina. Art, religion, history and magic are concentrated in its octagonal church and cloister. Unforgettable for those who visit it.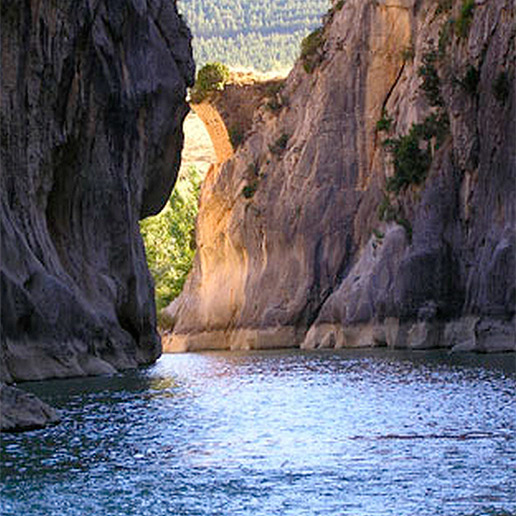 Foz de Lumbier
a 25Km.
It is a deep and narrow gorge around the river Irati of a length of just over a kilometer and a maximum altitude of 120 m. Ideal Natural Reserve to a stunning landscape, to see a variety of vegetation and vultures.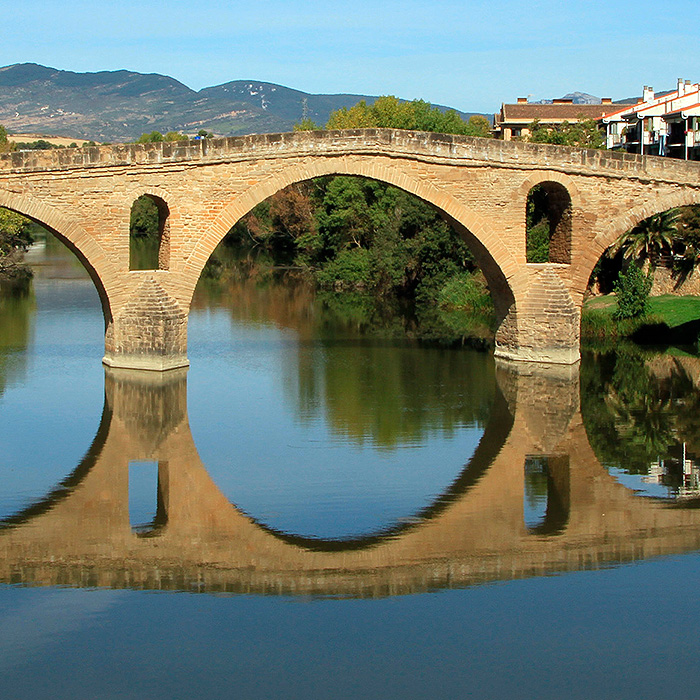 Puente la Reina
a 27Km.
Puente la Reina-Gares es un enclave muy importante en el Camino de Santiago. La peregrinación jacobea se plasma especialmente en su Calle mayor y en el extraordinario puente medieval, del siglo XI, con sus 110 metros de largo.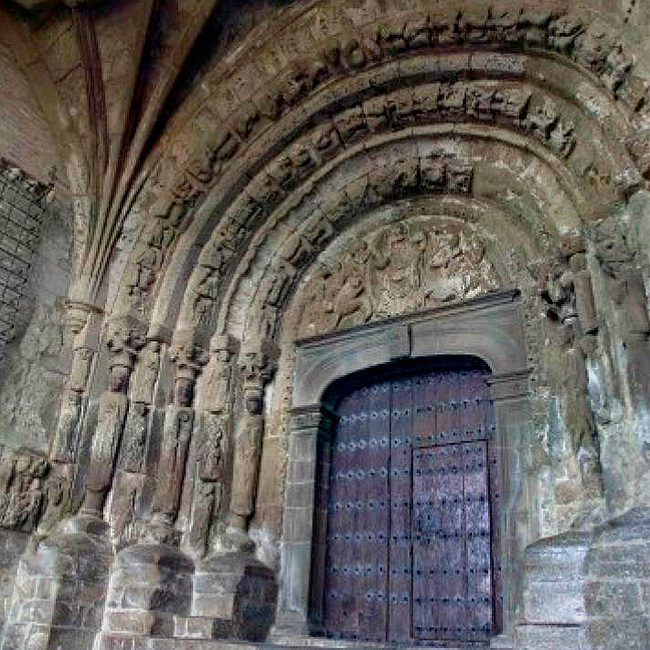 Sos del Rey Católico
a 29Km.
Sos puede presumir de conservar uno de los mejores conjuntos medievales de Aragón. De hecho, está declarado Conjunto Histórico-Artístico. En lo más alto, se alza la torre del homenaje de su castillo del siglo XII.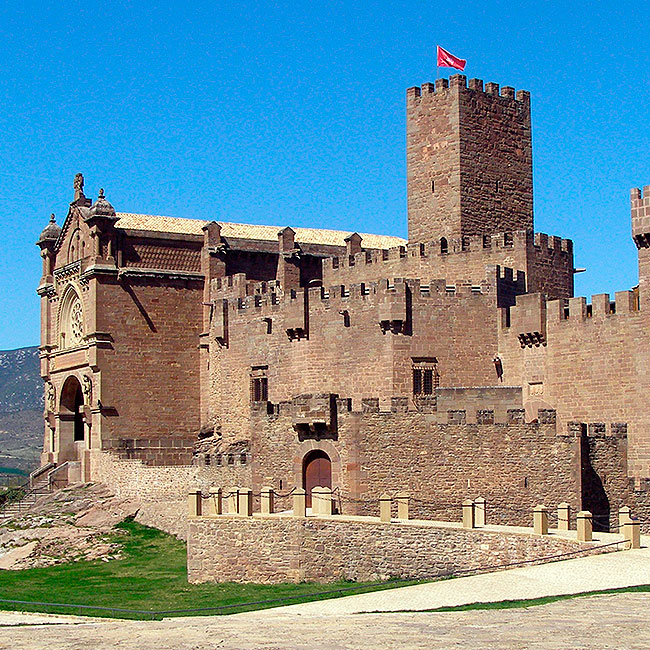 Castillo de Javier
a 30Km.
Its crenellated towers cut the sky strengthening its medieval charm. Cuna de San Francisco Javier, 8 km away from Sangüesa, to which people from Navarre go on a pilgrimage in the Javierada. Its architectural group, in part was rebuilt, it is awesome.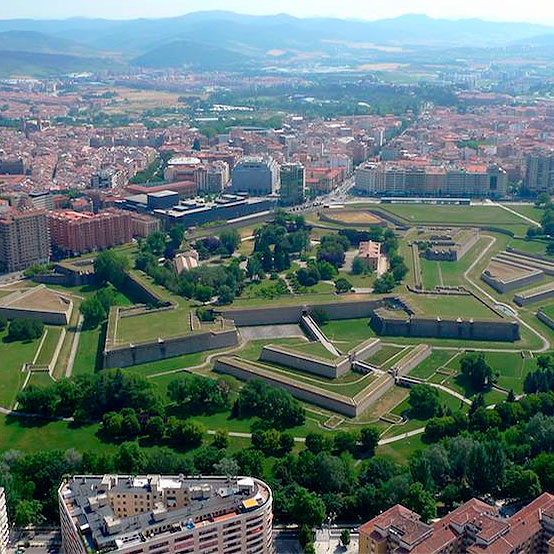 Pamplona
a 33Km.
Pamplona invites you to enjoy leisurely its parks and wander through its old town, it invites to taste its cuisine and its popular snacks, watered with a good wine, enjoy the unique festivals of Spain, the San Fermin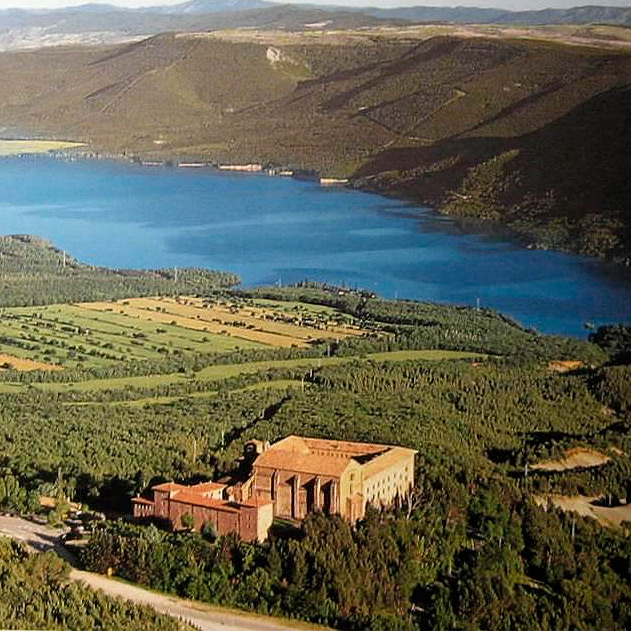 Monasterio de Leyre
a 35Km.
One of the best monasteries of Spain is located in a beautiful natural environment in which a Romanesque nascent emerges uniquely from the twelfth and twelfth centuries. And close it is the reservoir of Yesa as a complement for the traveler.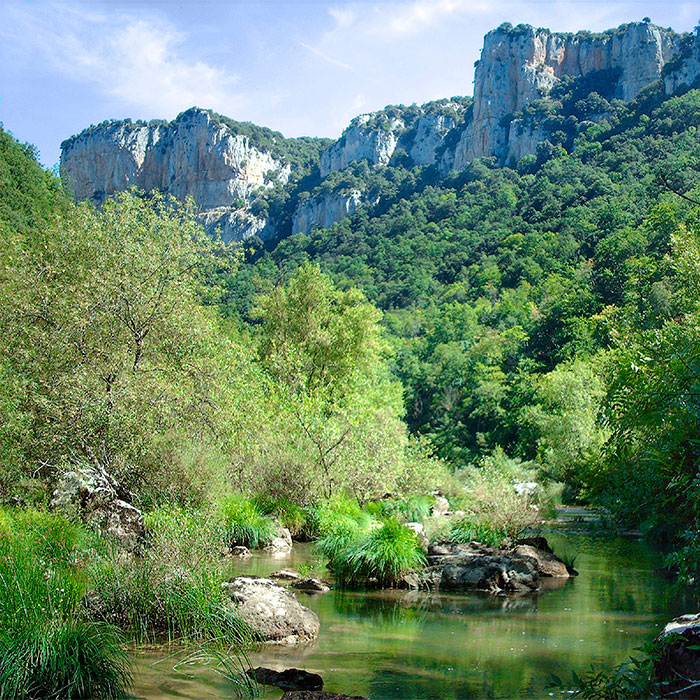 Foz de Arbayún
a 35Km.
A la entrada del pirenaico valle de Salazar, entre Lumbier y el Almiradío de Navascués, es la más extensa e impresionante de las gargantas navarras. El río Salazar va encadado sobre Imponentes paredes verticales a lo largo de casi seis kilómetros.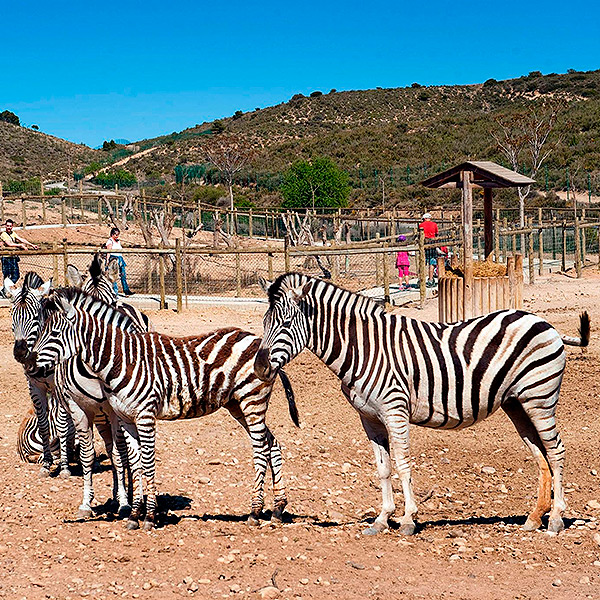 Senda Viva
a 37Km.
Located next to the Bardenas of Navarra is a Biosphere Reserve by UNESCO, you can enjoy a fun day with rides, a sensational spectacle of raptors and surprise activities that wait for you around the park.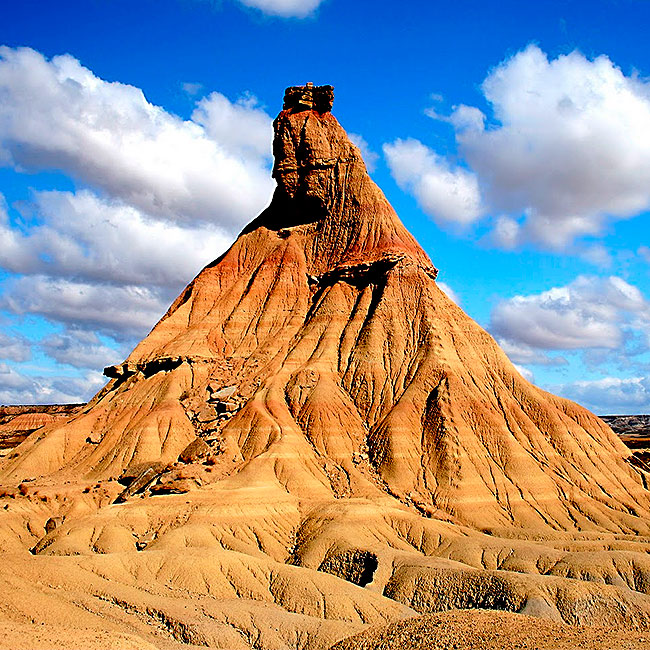 Parque Natural Bardenas Reales
a 38Km.
After its naked and inhospitable appearance, the Royal Bardenas keep big natural and scenic values that each year attracts to thousands of people and its territory has been declared Reserve of the Biosphere by UNESCO.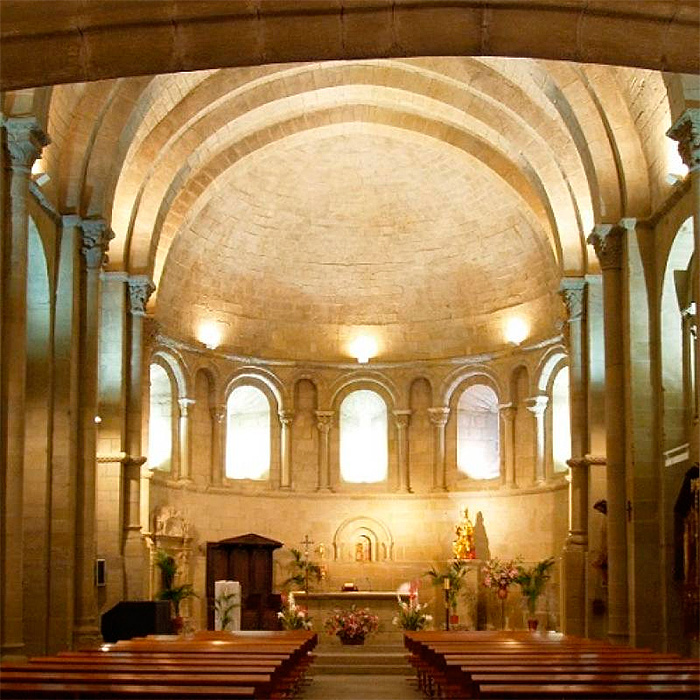 Uncastillo
a 40Km.
Paraíso del románico en Aragón es Uncastillo, catalogado como Conjunto Histórico-Artístico. En la cima de la peña están los restos del castillo con un museo en la torre del homenaje. Alrededor del castillo está el pueblo con todo su sabor medieval.

Catedral de Calahorra
a 41Km.
Calahorra, the old Calagurris, was one of the most important cities of the Roman Empire in Spain.
The cathedral is located on the banks of river Cidacos, guarded by the Episcopal Palace and the Walk of balls. It is a twelfth-century Romanesque building.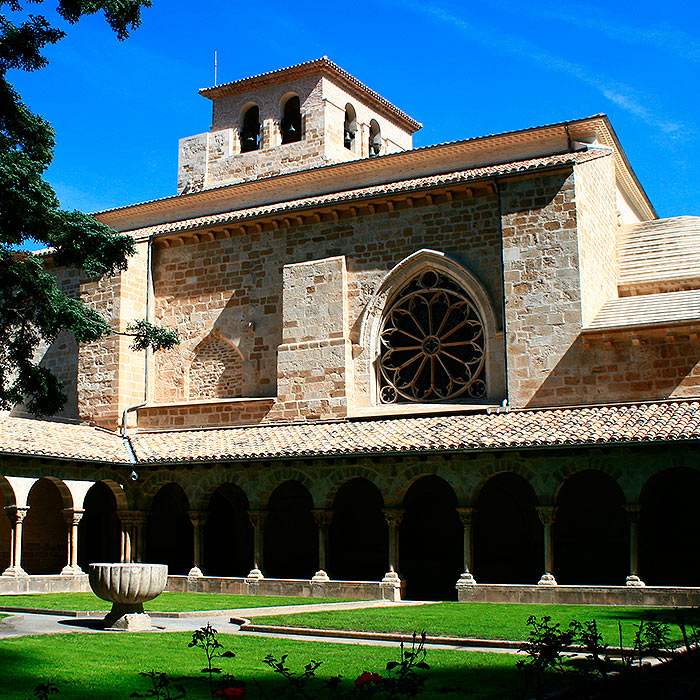 Claustro de Estella-Lizarra
a 41Km.
El claustro románico es uno de los enclaves más visitados de Estella-Lizarra, templo con una portada también románica con lóbulos. Otros templos románicos son las iglesias del Santo Sepulcro y San Miguel. Ciudad clave del Camino de Santiago.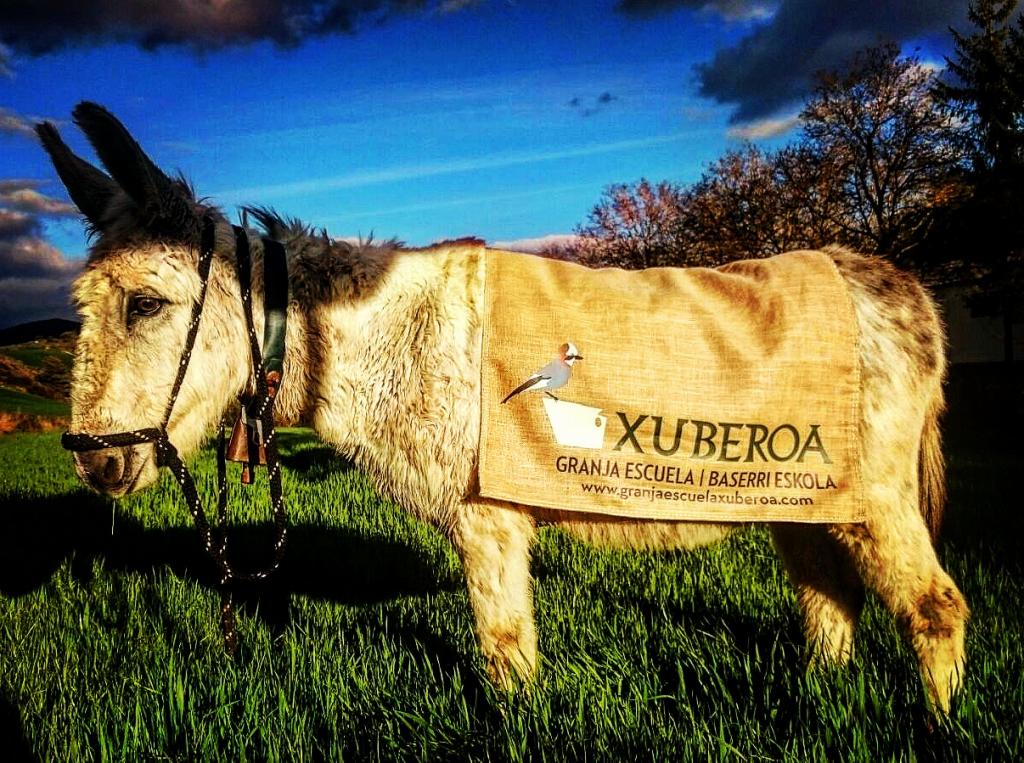 Granja Escuela Xuberoa
a 42Km.
A 10 minutos de Pamplona, un espacio diferente de educación ambiental en el que podréis vivir una experiencia única.
Descubriréis nuestra granja a través de nuestras visitas guiadas, os divertiréis con nuestros talleres y conoceréis nuestro entorno.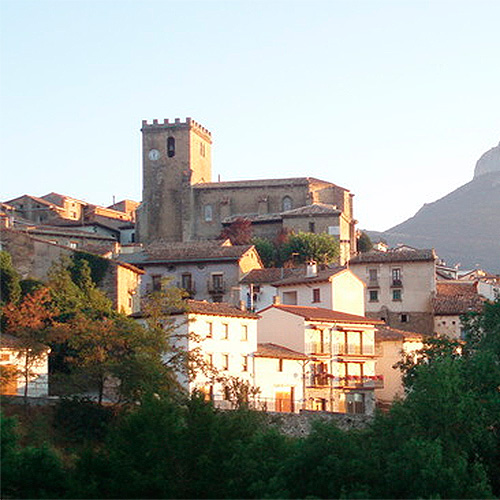 Salvatierra de Esca
a 49Km.
Conjunto Histórico Artístico es Salvatierra en la Jacetania y paso meridional del valle navarro del Roncal al que se hermana con sus foces, bosques y montañas anunciando el Pirineo. La arquitectura popular hasta parece roncalesa.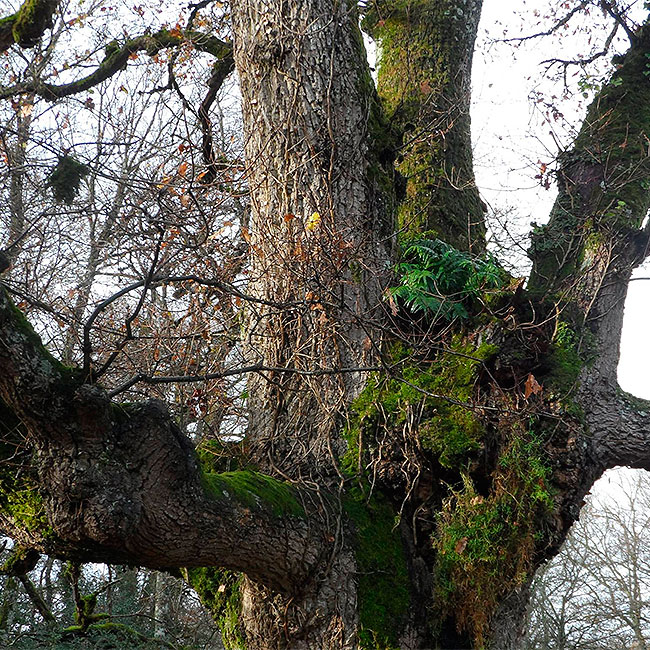 Robledal de Orgi
a 49Km.
Ancient forest, the only witness of secular oak wet Navarre with great ecological interest. Natural Recreation Area with reception areas, rides and conservation. A unique landscape that always amazes visitors.

Los Picuezos - Autol
a 50Km.
We cannot mention Autol, without reference to the natural monument that signifies the true symbol of the city -The Picuezos- o Picueza and Picuezo as they are also known. The wind, water and erosion, in a work of centuries,..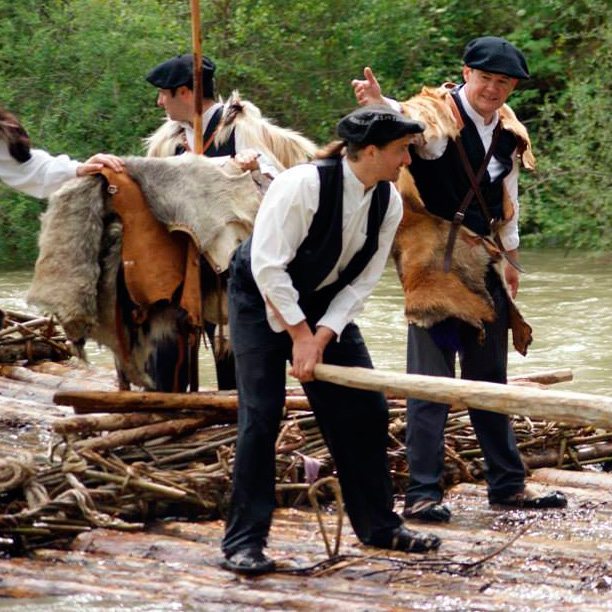 Burgui y oficios antiguos
a 51Km.
Burgui abre el Valle del Roncal por el sur con su puente medieval que es cruzado el Día de la Almadía por estas embarcaciones El pueblo es bello en sí mismo pero además hay enclaves naturales preciosos como la Foz de Burgui y las Balsas de Sasi.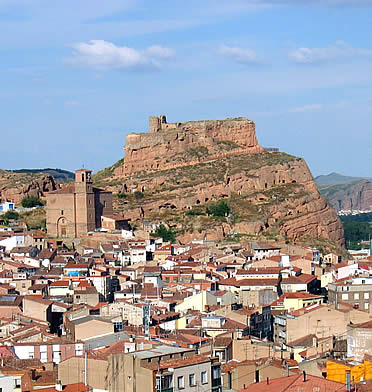 Arnedo
a 55Km.
Situado en la comarca de la Rioja Baja. Está bañada por el río Cidacos (afluente del Ebro). La economía depende fundamentalmente de la industria del calzado. Su nombre proviene posiblemente del latín Arenetum, colectivo de arena.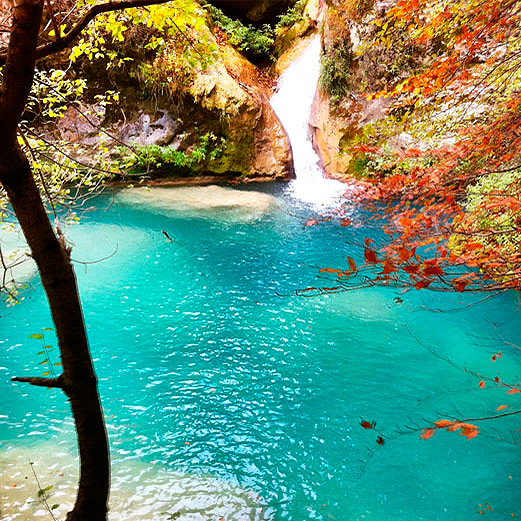 Nacedero del río Urederra
a 56Km.
The spring where the river Urederra is born is of hidden dream on the feet of the walls of the limestone walls of Urbasa, the symbol of the forest from Navarre. It is a truly wonder, and also is a Natural Reserve with waterfalls.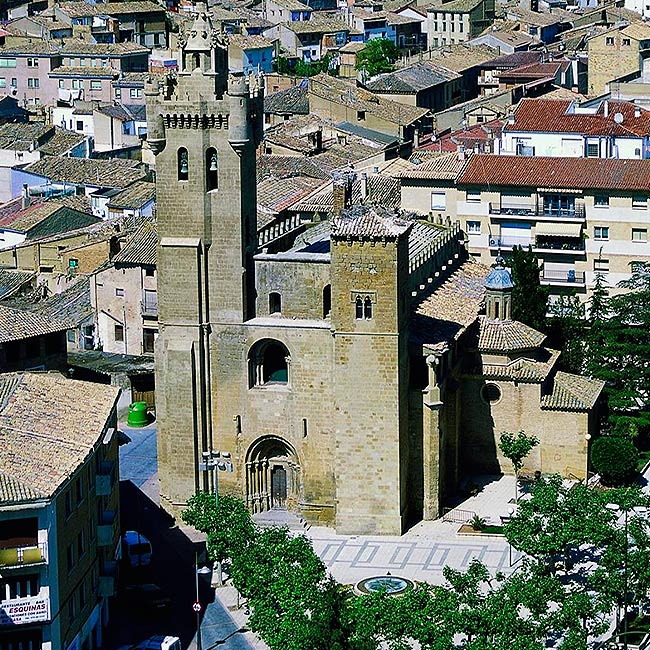 Ejea de los Caballeros
a 56Km.
Ejea es una ciudad con una historia larga y rica, y además es la capital de las Cinco Villas, la comarca con mejor y más abundante patrimonio cultural y natural de la provincia de Zaragoza.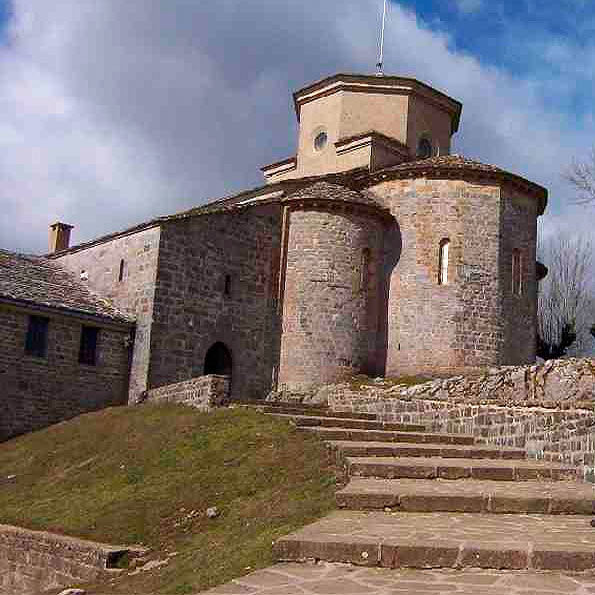 Santuario San Miguel de Aralar
a 57Km.
It is one of the most famous spiritual centers of Navarre. It is a Romanesque temple with three naves and three apses located at the top of the mountain chain of Aralar, from where a spectacular view can be seen. If the sanctuary is ...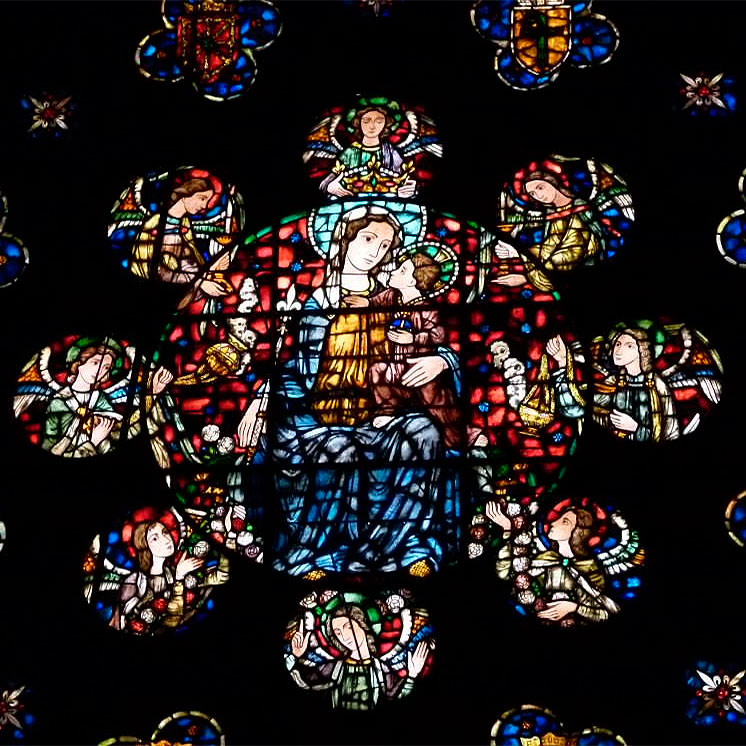 Colegiata de Roncesvalles
a 58Km.
Orreaga / Roncesvalles is the entrance of Santiago's Path (Camino de Santiago) from France with legends of Charlemagne and Roland. Shelter for pilgrims for centuries and now also Jacobean touristic settlement with an excellent collegiate. Bucolic natural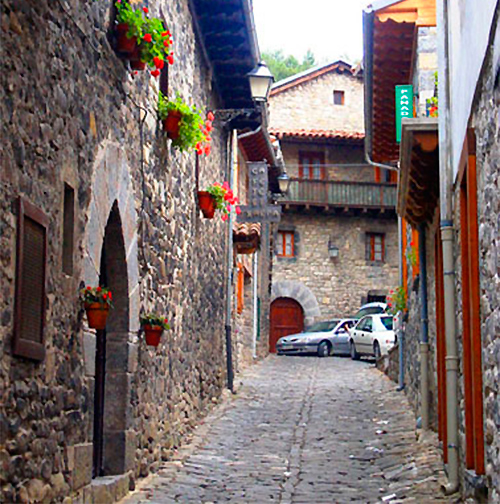 Roncal, casonas y Gayarre
a 59Km.
Roncal es un prodigio de arquitectura pirenaica con sus casonas. Hay que visitar también la Casa-Museo Julián Gayarre y su Mausoleo, así como el Centro de Interpretación de la Naturaleza y la iglesia de San Esteban. Y hay que probar los quesos.